Foundation Technique
JWELRY
"JEWELRY" is an abbreviated word of JW excellent library. As a collection of unique peptide memetic compounds possessed by JW.
In addition to the usual small molecule synthetic chemical compound, it contains about 25,000 peptide-like structural compounds found in proteins such as α-helix, β-turn, and β-sheet in vivo.
From this JWELRY, using various new screening systems such as HTS have been found to find innovative new medicine candidates that regulate Protein-Protein Interaction.
JWELRY / JW + Library
Preptidomimetic Chemical Library
Small molecule
α-helix
β-turn
β-sheet
PPI
Protein-Protein Interaction
Protein A + Protein B = Protein-Protein Interaction
Protein A + JWELRY Compound = Protein-Protein Interaction - inhibited
WNT
The Wnt signaling pathways are a group of signal transduction pathways made of proteins that pass signals into a cell through cell surface receptors.
These processes are necessary for proper formation of important tissues including bone, heart and muscle.
Its role in embryonic development was discovered when genetic mutations in Wnt pathway proteins produced abnormal fruit fly embryos.
Wnt signaling also controls tissue regeneration in adult bone marrow, skin, muscle, hair and intestine.
This pathway's clinical importance was demonstrated by mutations that lead to various diseases, including cancer, type II diabetes, and neurological diseases, the development of innovative new medicine targeted at key factors in the WNT signaling pathway has attract great attention.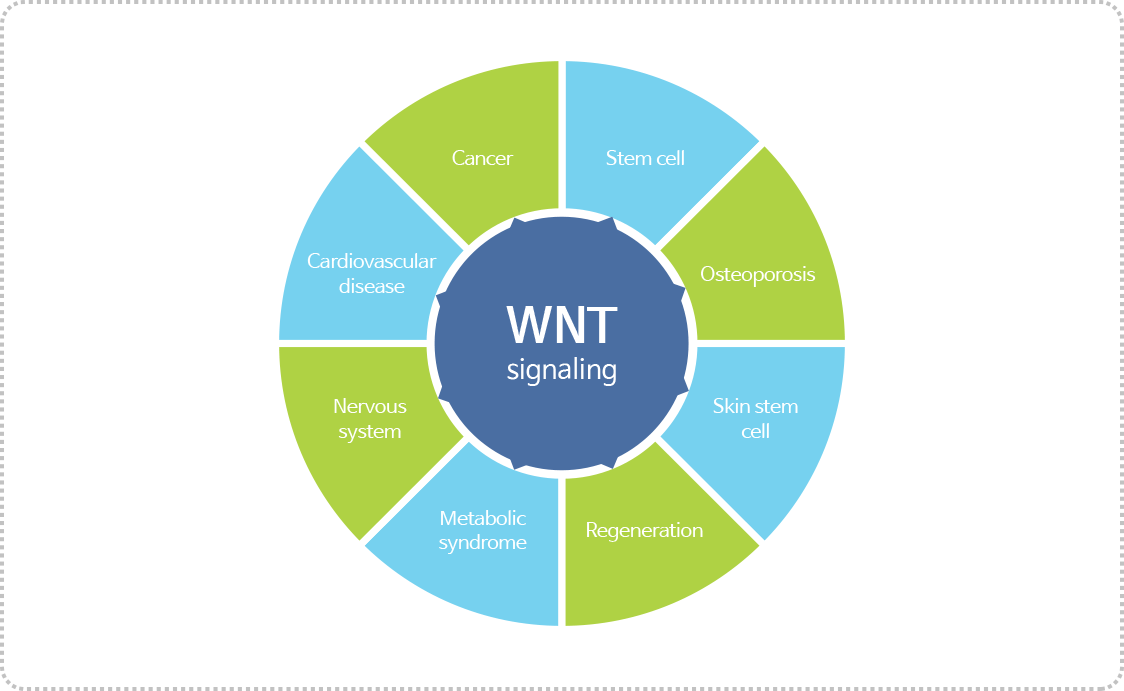 WNT/ β-catenin signal transmission modulating compound
high-efficiency screening system
- Through 12 β-catenin combining sites, more sensitive reactivity detection for WNT/ β-catenin signal
- Applicable as high-efficiency screening system(HTS) of WNT signal transmission modulating compounds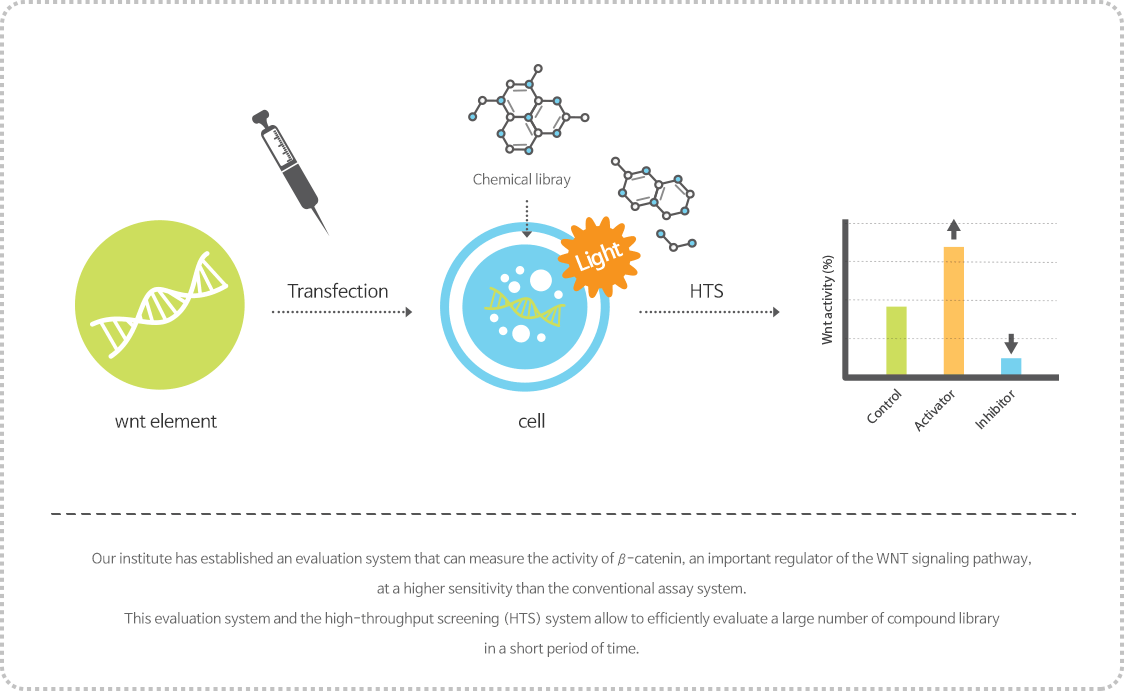 CLOVER
CLOVER is an information-intensive technology platform that the C&C Research Laboratories has built since 2012.
It is a kind of research portal which contains genetic information of about 300 kinds of cancer cells including 120 kinds of derived cancer cells from Korean cancer patients.
Rapid and efficient medicine development has become possible by predicting medicine reactivity and discovering biomarkers